You are currently browsing the category archive for the 'Blogroll' category.
Thanks are due to the inimitable Helen Killer, aka April Winchell, whose birthday it just happens to be.  April featured my pillows in the super hilarious, photo shopped picture of Martha, on New Year's Eve, garnering me over 18 thousand views, at last look. Wow!!
You can believe she's getting a giftie from me.  I'll post pics once she's received it.
I was just going to post a fantastic painting of Father Xmas (give me some money) by Jo Spinks – she's on my blogroll – but then I got inspired by John Butler over at Lozenge – also on the blogroll. He listed his top twenty most listened to songs of '07, and here are mine.
1. Henrietta – The Fratellis
2. Los Angeles I'm Yours – The Decemberists
3. Belly Love – The Kooks
4. Beautiful – Xtina live on SNL
5. Everybody's Changing – Lily Allen
6. Golden Brown – The Stranglers
7. Louis Quatorze – Bow Wow Wow
8. Knowing Me, Knowing You – Evan Dando
9. Breath Me – Sia
10. Femme Fatale – Velvet Underground
11. She Will Be Loved acoustic – Maroon 5
12. Fire – The Pointer Sisters
13. The Piano Has Been Drinking – Tom Waites
14. Kooks – David Bowie
15. Goody Goody – Frankie Lymon and the Teenagers
16. The Bottle – Gil Scott Heron
17. Don't Cha – Will Young
18. Frontin' – Jamie Cullum
19. People Who Died – Jim Carroll Band
20. The Conversation – Joni Mitchell
It may not be the most au currant list, but it's mostly acceptable hipster-wise.
And here's the painting of Santa, as promised:
As I said the other day, I recently had the chance to interview Brandon Bird, "humorous, realistic pop artist." Not only is Brandon a terrific and talented artist, he also has a great and strange website, which won the 2005 People's Voice Webby award in the "Weird" Category. The site features all the art I've shown, and available prints, Mr. T Christmas Card, SVU Valentines, and a do-it-yourself Walken mask.

Trick. Or. Treat.
And now, back to the interview.
Me: As you become known for your art, what's the best fan perk you've gotten?
BB:I got to go to the set of Law and Order. Yes, that was the coolest thing ever.
Me: How did you come up with the idea for Law and Order: Artistic Intent, and what was the reaction of artists you asked to be involved?

Justice Commemorated by Zoe Piel
BB:It was early 2003, and I started watching Law and Order reruns on TNT. And Law and Order, before then, was something I'd seen a couple times, in high school I saw it and was like, "Oh wow, this is really cool, except I'm exhausted and I have to go to sleep right now, because I have to wake up at like six in the morning." And then, to see three whole episodes, back to back, was just mind opening. Read the rest of this entry »
Michael Landon carries a giant squid from the sea. Lenny Briscoe is a samurai warrior. Harrison Ford is dejected and rejected. All in beautiful, precise oils.

The Anguish
Brandon Bird is not what most of us think of when we think of artists who work with oil on canvas, but this young artist's humorous take on celebrity and pop culture is quickly garnering praise in the West Coast art scene. Only twenty-seven, Brandon has already held the position of artist in residence at Cornell University, curated the much talked about Law and Order: Artistic Intent show, and is preparing for an upcoming solo show at Gallery 1988, a Los Angeles gallery that features independent and varied artists. His work is just as likely to feature your favorite movie star as it is museum quality work, and it's that juxtaposition of pop culture with high art technique that makes his work so covetable.
I was lucky recently, to get to have a phone conversation with him about art, pop culture, and most important, Law and Order.

The Code
Me: I work for FanLib, we're a site for all things fannish, and I was already a fan of your work, when I came across your Law and Order art, and I got really excited, because you make high fan art. And I thought you'd be great to interview, because I write for their blog.
Brandon Bird: There's a Law and Order blog?
Me: Not Law and Order, FanLib.
Brandon Bird: Oh, okay, gotcha. That makes more sense. I've been extremely disappointed by Law and Order's online presence.
Me: Really?
BB: Yeah. The NBC Law and Order sites will have producer blogs and stuff like that, but they'll get updated three times in September, and then never, ever again.

A Night Away
Me: You should start a petition.
BB: They have a site that claims to cross reference all the Law and Order shows… it just seems like they start all this stuff and then they never finish it. It makes me sad. Read the rest of this entry »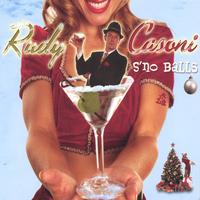 Went to Rudy Casoni's xmas spectacular last night… Wow! Not only was Rudy (Toby Huss of Carnivale and King of the Hill) on fire, but the special guests tore it up; highlights included Carlos Alazraqui (Reno 911) doing Christmas schtick – "Walking with a Stiffy in my Pants" – as Morey Amsterdam and the Lampshades (Kate Flannery of the Office and Scot Robinson of Anchorman) making cheesy holiday magic. Again, wow. Sorry I didn't announce the show in advance, for those in LA, but Toby does the Rudy Casoni show the first Wednesday of every month at the Steve Allen theater and the Lampshades perform the first Saturday of each month at Improv Olympic West. If you've never seen either you're in for a swingin' treat. Here's a little Lampshades to brighten the day.
My pally John Butler, and his mate Rory, shot this video for the band The Glass in Berlin. Hübsche verflixte kühlen ab.